Introduction
"Three generations ago, The Empire was overrun. The Last Outpost, a small coastal trading community located deep in the wild, was spared from most of the fighting and survived. Life in the Outpost is not easy, and many of the finer things from the old Empire are absent. The residents of the Outpost are descended from the survivors of The Fall, a tough and adventurous breed. They are well suited to the task of reclaiming the land once tamed by their forefathers."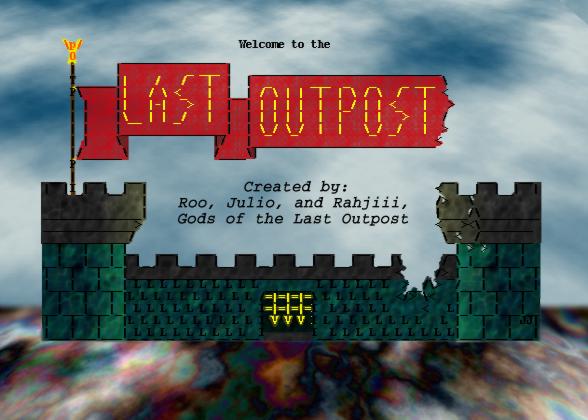 The Last Outpost is an online multi-player text adventure game, also known as a Multi-User Dungeon, or a MUD. It has been online since 1992.
Along with exploring and advancing through the game world, The Last Outpost offers players the ability to lay claim to the zones that make up the land. Once claimed, a zone can be taxed, and the player making the claim gets to decide the player killing policy within the zone. Whoever claims the whole world is declared the Leader of the Last Outpost!
The Last Outpost has a large unique world, player elected clan membership, player regulated pkilling, and a hands-off policy for gods.
The game accepts both IPv4 and IPv6 connections, and has a built in shell-like CLI with arrow history, hotkeys, and tab completion. The game does not require additional client software, and connections made through the web page are SSL encrypted. The web client also has support for touch based mobile devices so you can play LO on the go.
Whether you enjoy hack 'n slash, following quests, PvP, NPK, playing in clans, or soloing, the Last Outpost has it.
Come slay with us!
Next: How to connect.